Photos Of The 1980s
< back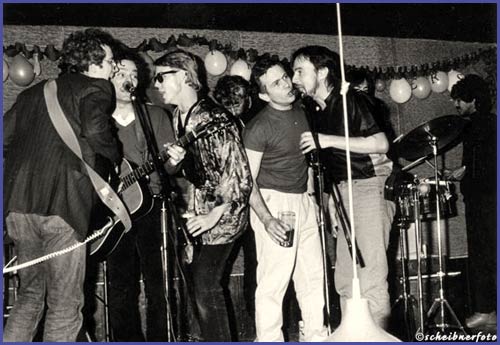 Various "Hagelbergers" on stage at The Go In. March, 1984. Left to right, Ron Randolf, Jesse Ballard, myself, "Saxophone" Joe Kucera, Bob Williams Wayne Grajeda, Chris Evans and Ramesh B. Weeratunga.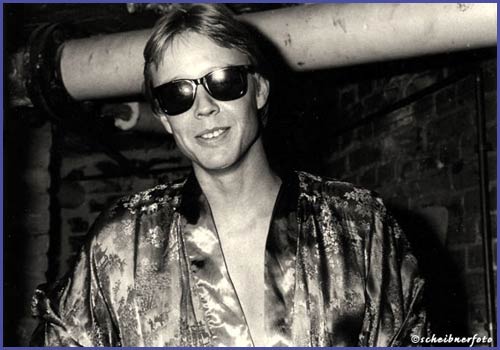 Backstage ( in the cellar ) at The Go In.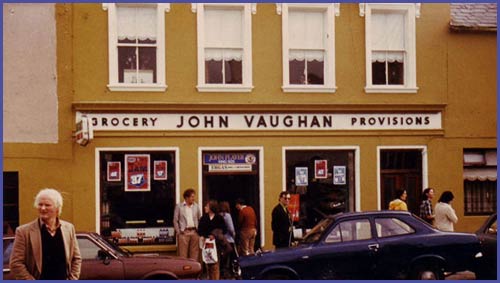 A shop in a small village, somewhere on the west coast of Ireland. The photo was given to me at a gig by someone who had been there and took the picture.
1981 West Berlin, deep in Kreuzberg. Hanging out with some young fans at a WW II bombsite.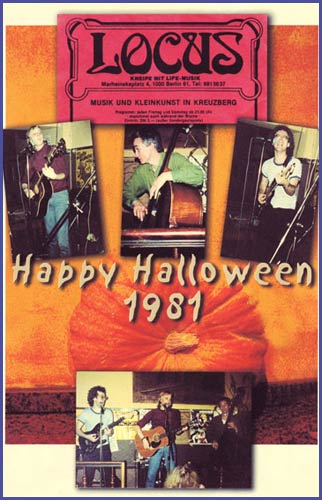 Halloween concert at The Locus in Kreuzberg with Ron Randolf and Hans Hartmann.
Nov. 10, 1989. The Berlin Wall comes down while I am sitting on it! I am seated to the left of the fellow who is holding a silver motorcycle helmet on his lap. It was quite a weekend !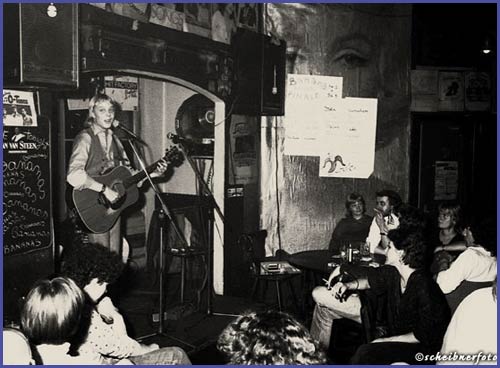 On stage at The Banana. Certainly one of the most fun places to play in Berlin during the 70ís and early 80ís. A great little club, it was run by one of the most loved, funniest and wild club owners to ever surface in The Wicked Walled City. Mr. Auri Tomosello from northern Italy.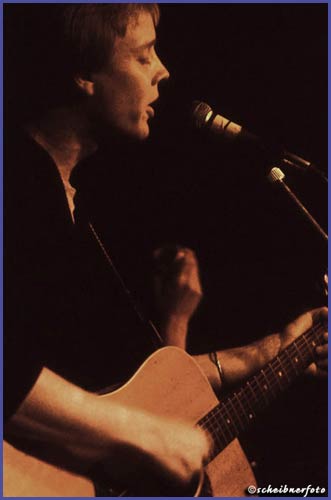 The Go In mid 80ís.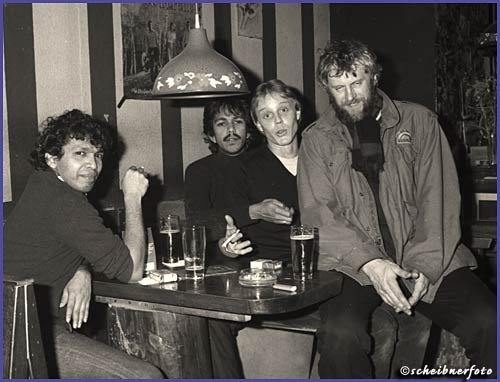 In the "wee small hours of the morning" at the Go In. With Siri, Ramesh and Joe Kucera.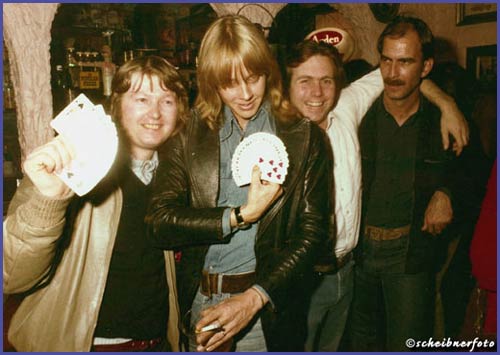 Pick a card!! Peter Scheibnerís famous birthday party at the Harlekin Club in West Berlin. August 24, 1980. Left to right: Magic Ernst, Johnnie V., Bob Williams and A.F.N. Radio Berlin DJ, Rick Delisle.
Kreuzberg 1981.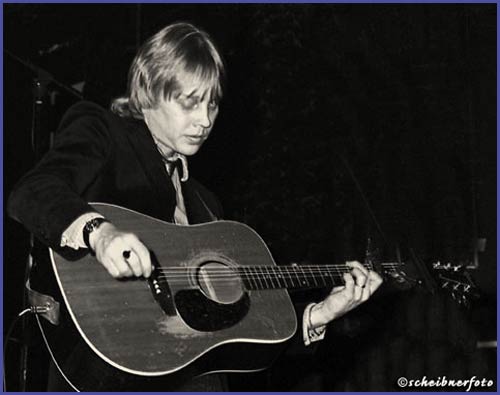 On stage at The Quartier Latin early 80ís.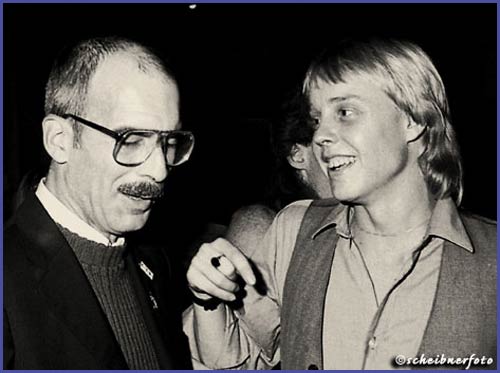 Again with Rick Delisle at a gig in The Banana 1980. At the time he was also working with Nina Hagenís band, doing "The Spliff Radio Show" LP and concerts.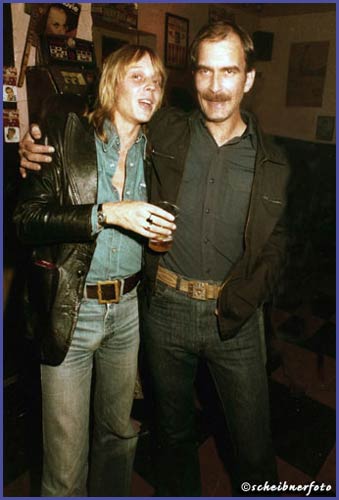 With Ron Randolf at The Go In 1984.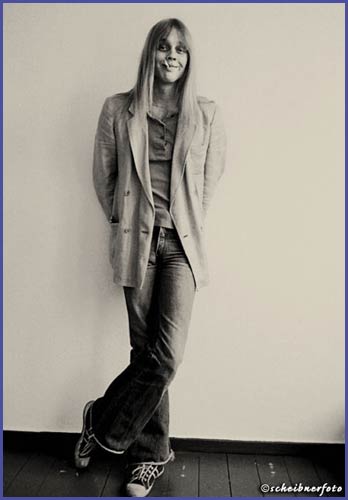 Summer 1980. One week later, the hair would be long gone!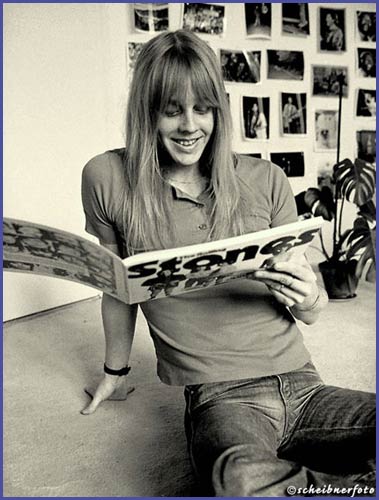 Hi Mick, Hi Keith !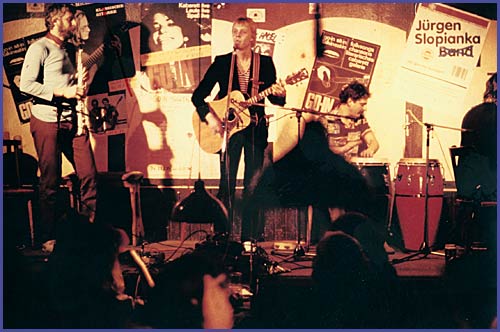 The Go In, Steve Club Reunion Concert, Feb. 23, 1984. The evening was a huge success and many, many artists who played both clubs in the 60s, 70s and 80s, performed that night. I played with "Saxophone" Joe, Tommy Goldschmidt and Danny Dziuk.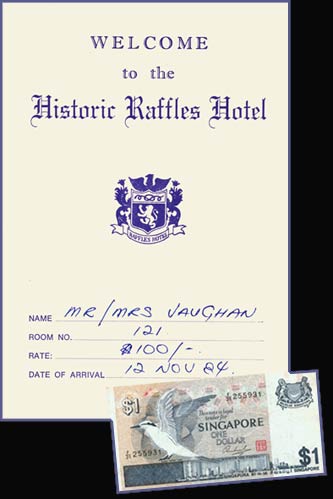 Raffels Hotel Singapore, Nov. 1984. Petra and I stayed in the Joseph Conrad suite. We also hung out a lot at the famous "Long Bar"!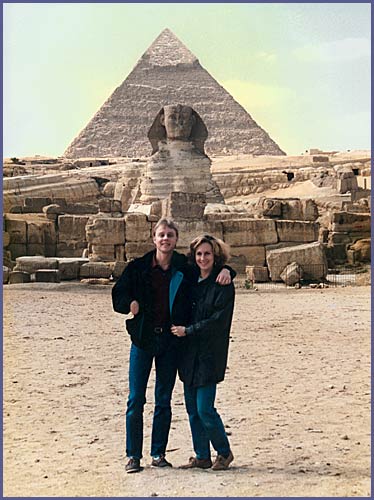 Petra and I started traveling quite a bit in the 80s. This is a photo of us in downtown Kansas City, 1988.
< back